Welcome to Malaga! One of Europe´s hippest destination cities after a multi-million euro regeneration project.
Increasingly popular, visitor numbers to this Spanish port city are skyrocketing
Centre Pompidou Malaga, situated below the giant cube, is home to an impressive array of modern art with very important artists like Bacon, Kahlo and Picasso.
A wide range of activities from a visit to the Picasso Museum, a visit to the Botanic Gardens "Jardines de la Concepción", a Segway tour, or a visit to the recently reopened "Caminito del Rey", ensures that no matter your interests you will find an activity that best suits your tastes.
It´s possible you´ve already passed through Malaga, or at least the airport. Millions of visitors pass through on their way to enjoy the beaches of the Costa del Sol or marvel at the Alhambra in Granada.
Now, however, this Mediterranean port city is becoming a destination in its own right. Thanks to a multi-million euro project, the opening of new galleries and the Centre Pompidou, this Andalucian city has become one of Europe´s trendiest destinations.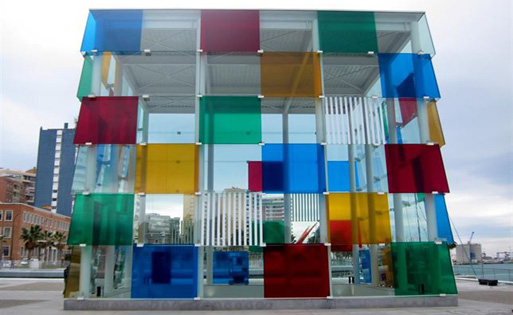 Centre Pompidou Malaga is one of the first of several pop-up versions of the famous Parisian gallery.
Malaga offers a thriving cultural scene, spectacular scenery, excellent restaurants and bars, great shopping and a happening nightlife.
Centre Pompidou Malaga is one of the first versions outside of France of the famous Parisian gallery. Centre Pompidou is housed beneath a giant glass cube situated along the hip waterfront area. A €9.00 entrance fee allows you to view 90 works by artists including Miro, Magritte and Picasso which are on loan from Pompidou France as well as a dance and choreography exhibition. Self-portraits not to be missed of Francis Bacon and Frida Kahlo, and a particularly drawing exhibit of Kader Attia, Ghost - a tin foil installation of Muslim women in prayer. On the other side of the city the first overseas branch of the St Petersburg State Russian Museum has recently been opened in a refurbished tobacco factory. Close by is the Malaga Automobile Museum with an extraordinary display of cars, art and fashion. The addition of Centre Pompidou and the Russian Museum has further solidified Malaga´s brand as a "City of Museums".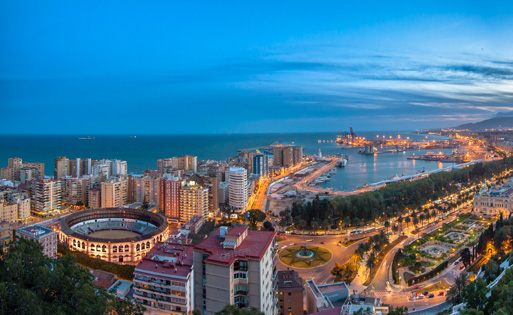 Gibralfaro Castle offers stunning views of Malaga and its harbour on the Mediterranean Sea and it´s lookout is one of the not-to-be-missed visits.
To widen your knowledge of the artist of reference in Malaga, Pablo Picasso, you should visit the Picasso Museum Malaga (C / San Agustín, 6). This museum never ceases to surprise both tourists and locals. The permanent collection shows the relevant aspects of the artistic legacy of Pablo Picasso and his relationship with his hometown (Málaga). Currently, the temporary exhibition Movements and sequences, takes us through the paintings of Picasso, Maria Blanchard, Braque, and Miro. The rooms of the Palacio de Buenavista are open to visitors on Fridays, Saturdays and Sundays from 10.00 to 20.00 hours and cost entry is 8 Euros.
The best of Carmen Thyssen Málaga (C / Company 12) lies in an exhibition of Spanish and international painting, Summer Days. From Sorolla to Hopper, which takes us through the way that painters have depicted the beaches and the sea from the mid-nineteenth century. The collection is divided into several chapters and includes works by artists such as Sorolla, Fortuny, Pla, Pinney, Iturrino or Regoyos; and international artists Monet, Boudin, Homer, Cézanne, Kuhn or Hopper. Open Tuesday to Sunday from 10.00 to 20.00. The cost of tickets varies between 2-9 Euros.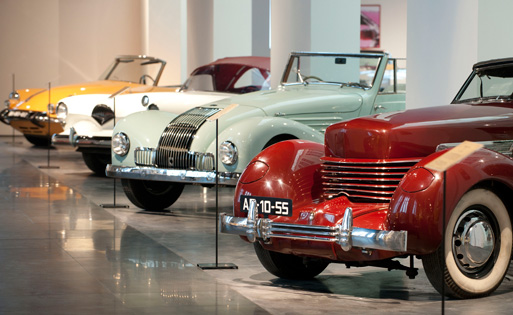 The Automobile Museum in Malaga has around 90 classic cars, and also includes displays of haute couture fashion and hats.
Visit Malaga's best sites and hear the tales of this historic yet modern and thriving little city while following a guide on a self-balancing electric Segway. The choice is yours on a 1- or 2-hour Segway tour of the historic centre of Malaga – famously the birthplace of Pablo Picasso. Admire sights like Malaga Cathedral, Picasso Museum and the Alcazaba citadel on the 1-hour tour, plus Castillo de Gibralfaro (Castle Gibralfaro) and the seafront promenade on the 2-hour tour.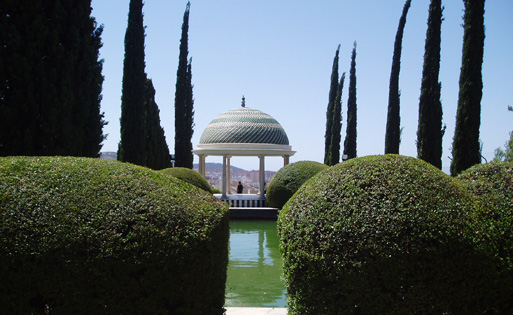 Large botanical gardens can be found four kilometres north of the city centre. The brainchild British-born Amalia Heredia Livermore and her Spanish husband, Jorge Loring Oyarzabal, a local aristocratic couple the gardens date back to the mid-19th century. They wished to recreate a tropical forest near the Mediterranean coast. Malaga's botanical garden includes some of the most exotic plants from around the world and is famous for its purple wisteria blooms in spring.
For exquisite freshly caught seafood, take the bus to the promenade along Pedregalejo to the east of the city where you can join locals feasting on boquerones (anchovies), espetos (sardines barbecued on sticks) and platters of mussels, prawns and clams. Cervantes Escuela Internacional is situated in this neighbourhood just 5 minutes from the each and 10 minutes by bus from Malaga city centre. Our Intensive Spanish course consisting of 20 classes per week Monday to Friday (4 classes per day) will allow you to combine Spanish lessons with your favourite tourist activities.
The arty Soho district is where you will find modern minimalism and sleek gastro bars, such as KGB where the trendy young queue for tables. This portside neighbourhood has been recently transformed with urban street art by international street artists. Finished off with the Contemporary Art Centre of Malaga, this district is truly the Art District of Malaga.
And as a grand final, one of the top 10 world tourist attractions, according to the exclusive list published by the Lonely Planet each year: "El caminito del Rey"
The notorious Caminito del Rey route is known as one of the world´s most dangerous and scary hikes. This path has now been re-opened to the public after a multi-million euro restoration project. The original metre-wide path clung to the sheer rock-face skirting the Garganta del Chorro gorge along a ledge 100m above the ground. Built in 1905, it received its name "Path of the King" after it was crossed by King Alfonso XIII in 1921. By the 1990s the path was in a severe state of disrepair and was finally closed in the late 1990s following the tragic death of five hikers. The path became the domain of professional climbers and adrenaline-seekers.
Now, fifteen years later, fixed, reinforced and with new handrails providing extra support, the Caminito del Rey has reopened allowing visitors to traverse one of Spain´s most spectacular walking trails and the views will take your breath away.