"What you learn in school, you can practice at home"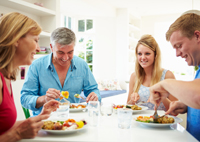 Living with a Spanish family gives you the opportunity to get the best out of the course, to get to know the food, the culture and the Spanish customs.
You will be part of real Spanish life and this experience will improve your command of Spanish. It is logical that you will have to adopt a little to the habits of the family, but you will be able to enjoy their friendship and yet on the other hand, be independent, with your own front door key you can choose an individual room or a double and half board (2 meals, normally continental breakfast and dinner) or full board (3 meals, continental breakfast, lunch and dinner).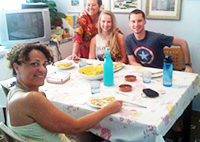 All our collaborated host families are close to the school (between 5 to 20 minutes by foot) and to the beach. Our collaborated families are carefully selected by the school and they are used to have students from all over the world. This accommodation is available between the Sunday prior to the first day of the course (Monday), until the Saturday following the last day of class (Friday). But if you need your accommodation to be available before or after these dates, for example for flight reasons, this is possible and you will be charged for any extra days needed (up to a maximum of 2 extra days).
When you complete the enrolment on-line form on our web page you can tell us about your family preferences (Special Requests or Comments field) and we will use that information in order to find a family that matches your requirements.
Prices
| | | |
| --- | --- | --- |
| | Price per week | Extra night |
| Single room, Breakfast | 210 € | 30 € |
| Single room, Half board | 245 € | 35 € |
| Single room, Full board | 280 € | 40 € |
| Double room, Breakfast | 175 € | 30 € |
| Double room, Half board | 210 € | 35 € |
| Double room, Full board | 245 € | 40 € |
High season supplement (jul, aug): 45 € per week
Double rooms only available for 2 students booking together.
Special diet (gluten free, lactose free, vegan diet) +15 € per week.
INCLUDED: WIFI, bedding, a weekly laundry service & a weekly cleaning. No towels are provided.