Cervantes International Spanish Language School is located in the lovely neighborhood of Pedregalejo, a residential area just 10 minutes east of Malaga's downtown area.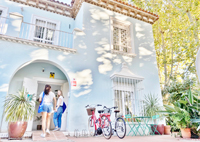 Originally a fishing village, Pedregalejo was later annexed by the city of Malaga, though its past can still be seen in the many fishing boats and seafood restaurants which line the neighborhood's picturesque shoreline.
Pedregalejo's beaches are located just a two minute's walk from the school, offering students boundless opportunities for recreation and relaxation.
The neighborhood's open-air bars and restaurants provide a lively atmosphere and a wide range of excellent fresh seafood at low prices.
Malaga Information
Malaga is a city of approximately 600,000 inhabitants located on Spain's Mediterranean Coast.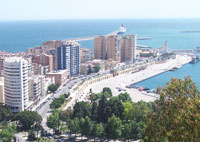 The city's sunny weather, scenic country side and abundant beaches has made it a popular destination for tourists from around the world.
The city also enjoys a vibrant culture and academic atmosphere, attracting a significant population of international students who wish to learn Spanish.
MALAGA'S history goes back nearly 3,000 years years to its founding by the Phoenicians.
The city later experienced Roman and Arabic rule before being re-conquered by Spain's Catholic Kings in the 15th century.
Evidence of Malaga's diverse past is easy to see - the Roman amphitheater "El Teatro Romano" and the Arabic fortress "La Alcazaba" are two of the city's most striking attractions.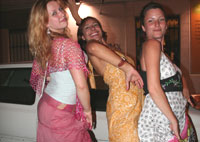 The city also boasts a rich musical and artistic history - curious students will have no trouble finding the birthplace of Pablo Picasso in the "Plaza de la Merced."
The sun is shining more than 320 days a year - the average annual temperature is about 19° Celsius. This pleasant climate lasts all year, making it a perfect place to study, enjoy your free time and play open air sports: golf, water skiing, sailing, beach volleyball and surfing, or in the mountains that surround Malaga: hiking, climbing, paragliding, hang gliding, or horse riding. The airport of Malaga is the most important for the south of Spain with numerous domestic and international flights. In addition, Malaga enjoys a great university atmosphere (Malaga University counts more than 45.000 students).
Map Location of Our Cervantes EI school