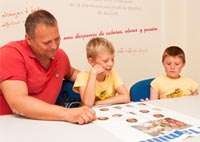 Course for families that wish to combine family holidays with learning the Spanish language (also for mothers or fathers that are travelling alone with their children)
Learning Spanish with your children can be a unique experience for the whole family. The adults can choose from any of our courses and the children will be in the course that best adapts to their age and Spanish level.
If the parents decide not to enrol their children in classes, or they are younger than 3 years, it is possible to organize a baby-sitter during class hours.
Every day after class, the family can do activities organized by the school and participate in the excursions during the weekend.
The family shares the accommodation and can choose to stay in a host-family, individual apartment, hotel or hostel.
In designing the course for children, we gave special attention to the motivating character that it should have, and therefore we have included digital educational resources, games and short animated films suitable for the target audience - the children. We also take into account the different styles and rhythms of learning with a variety of materials (visual, audio and kinesthetic).
Contact us for more information.
Practical Information
Lessons per week: By agreement
Minimun duration: 1 week
Levels: All levels, from A1 to C2
Number of Participants: minimum 2
Composition of the Course: The hours, composition of the course, activities, excursions and type of accommodation will be organized according to the needs of the family
Start of the Course: every monday of the year