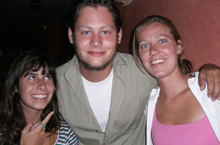 The hours, course content, activities, excursions and accommodation options are agreed according to the requirements and special needs of the group.
Cervantes International has experience in organizing tailored courses for students and professional groups from all over the world. Cervantes International has the flexibility to design programs for groups specially driven to meet the requeriments of every organization or customer. Tipically, The programs have a flexible duration and the minimun number of students is 10. The courses are given in modern classrooms with air-conditioning.
Please, contact our marketing department for more detailed information and special quotation for your group.
Practical Information
Lessons per week: By agreement
Duration: By agreement
Levels: All levels, from A1 to C2
Number of Participants: minimum 10
Composition of the Course: The hours, composition of the course, activities, excursions and type of accommodation will be organized according to the needs of the group
Start of the Course: Any day of the year
We had from the first day on very good communication with the school administration, and they have helped us to arrange a good program for our students.
Both, teaching and activities in the afternoons was varied and with good contents. The pupils have learned a lot in a short time. We had already asked for lessons with special themes, and we've got them! Not least, the staff has been very nice with us!
The school's location is great, with a nice beach, a lot of shops, bars and so on very close to it. There is also a good bus service just outside the school.
We were happy in the Hostal (El Nogal).
We love Malaga and we will come back again for sure!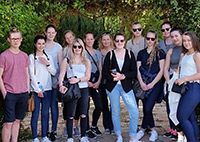 Group from
Norway
We have really enjoyed being here. All students are very happy with the course, activities and in general with experience.
As a teacher I am also very happy and satisfied of aid before coming and here.
Too bad we had rain, but in the end we took advantage of everything.
Overall the experience and the stay has been sky-high.
Everyone who works at Cervantes is accommodating. Many Thanks!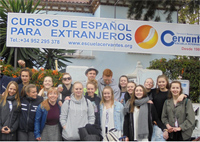 Group from
Norway
It has been a pleasure and a good experience to meet and work with Cervantes International School . With them we have known Málaga in an interesting and fun way through activities such as visits to museums and dance course. The classes have been great , professional and funny . During the week we lived in Málaga hostel B & B where we were greeted and treated very well.
Overall I think the experience has been a success. I recommend it!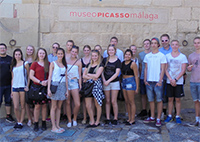 Group from
Norway
Surfing the net looking for a Spanish course for my students I bumped into Cervantes Escuela Internacional and got in touch with then.
Manuel was very helpful, above all because I could arrange all the agreements in English. He even called me twice to clarify any doubt. Should say a great service!
I am still having a hard time putting together groups to Spain and if I managed it´s only thanks to Paola and Manuel who allowed me to take even a very tiny group!
The information about the course was clear as well as the one about activities and once we got here we had no surprise.
They only misunderstanding was about families. But I think it is just because Cervantes is more used to deal with more adult students than mine who wish to have full freedom. I couldn´t imagine they let boys and girls (even of very different ages) share the same families. That is just because I am probably used with stricter schools. Nevertheless they have been opened to solve all my problems greatly. I will surely recommend Cervantes and I might take groups again unless I go to a different place!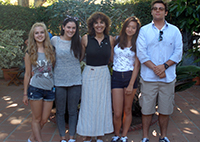 Group from
Italy
I´m a teacher from Canada and I love to study at Cervantes Escuela Internacional for many reasons. At the beginning of May I came here for the fourth time (the second with a group of students) for 4 weeks and I always come back because I'm very happy with the professionalism of the teachers and administration. They have a lot of patience with the students and they are always ready to help if needed. Miguel y Manuel: Thank you very much thanks for being so friendly and helpful with us. I'm always sure I can get the best of you if I need help.
In addition to courses and staff, I chose the school for its location and for the host families where students live. All students in my group agree to offer his thanks to his "Spanish mothers" for good food and attention. I also really like the weekly activities and the excursions organized during the weekends. There is always a really good guide that explains what we visited. At the end, we become very good memories and pictures that motivate us to return again next year.
Thanks to Cervantes Escuela Internacional for making our stay so pleasant and positive!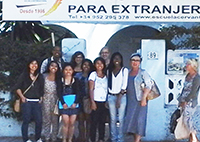 Group from
Canada
The accommodation was really good, the students were really happy with their families. The lessons were interesting and the activities after the lessons were very funny.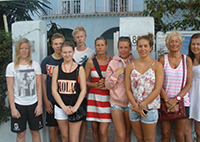 Ingrid Ollow-Franzen Group
Sweden
The teachers are really good professional. The lessons are interesting and the activities were diverse, we really enjoy the games at the beach and the vocabulary workshop. We had a really good guide in Sevilla, Granada and Ronda. The course was no difficult and diverse, the accommodation in host families was really good.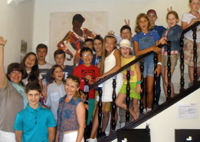 Group from
Russia
We got all the information we needed and we contacted Cervantes directly. All the organization was perfect and everything went exactly to plain. We are very satisfied with Cervantes Escuela Internacional.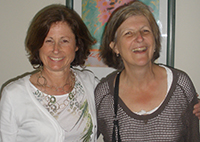 Group from
Austria
The staff of the school was very friendly and nice and they helped a lot in all the situations. In this school you feel comfortable. The organization of our time in Málaga was perfect. The e-mails were answer very quickly and in Malaga everything was also perfect, all the stuff was very competent.
The activities were organized really well with many enthusiasm, the guides spoke slowly and all the students were able to understand a lot.
The lessons were very good, my 10 students were able to listen and speak and the felt that they improve their compression.
The accommodation in the hotel, close to the school, it was perfect. The rooms were clean and the workers were friendly.
Malaga is a amazing city, in Malaga is very easy to use the public transport to go to the city center, museums and shops, there is many interesting shops, the restaurants and coffee shops are really good. The localization of the school, close to the beach is marvelous; the weather is really good for health and the humor (it was sunny)
We choose this school because of the good communication and responsibility that Manuel showed us and the good opinions about the school on internet.
What I have seen has convinced me completely. We will back!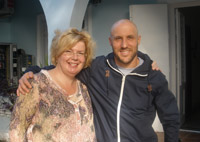 Group from
Germany
1. The teachers and employers are always helpful and pleasant, they form a good team and they are particularly good teachers.
2. Activities: Everything is very well organised, the only thing is that sometimes maybe some groups are a little big big.
3. Courses: Our students were very happy and satisfied with the courses. The only thing I would mention is that maybe it would be better for the beginners that the teachers forced them a little bit more to speak more Spanish than they did in class. (A1.2)
4. We have been at Cervantes six years ago and we liked it a lot. That´s why we decided to come back again this year.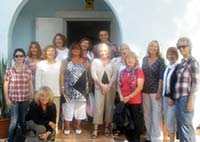 Group from
Germany
My name is Tatiana Ollenikova. I am the Spanish teacher of a group of students that have studied Spanish in Cervantes Ecuela Internacional from the 15th of July until the 03rd of August in 2013.
We live in Russia in a Siberian city not far from Baikal Lake and really close to Russia´s capital.
Malaga was  not far from where we stayed. It was only 9 km away. It was me who suggested the students and their parents to study at this school as I believe it is a marvelous school with high quality classes. Also, the city is particularly beautiful and I chose this city because it was where I started to learn Spanish in 1992.
First of all, I would like to thank Manuel, the person who prepared everything for our stay in Malaga and the courses at Cervantes. He is a very nice and responsible person. I would say he is really professional. The students arrived in Russia with unforgettable experiences from Malaga and having learned many new things. They said that they enjoyed the trip from every possible aspect. They enjoyed the courses, they liked the books they used for the lessons, they really loved the teachers, the extra activities the school organizes every week and the host families where they stayed. Furthermore, we had the chance to enjoy a really well prepared and organized tour in Cordoba, Ronda, Nerja, Tarifa, la Bahía. Many thanks to all of you. See you next summer in Malaga!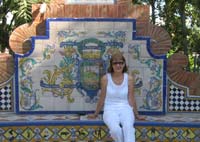 Group from
Siberia
I brought a group of students and university teachers of the Varna Free University "Chernorizets Hrabar" to study Spanish. We spent two wonderful weeks there.
During this time, most students had their first Spanish-language classes because they don´t know anything about Spanish language before. Despite this, the classes were very enjoyable, pleasant and useful for them thanks to the good preparation and experience of the teacher. The activities were very entertaining and increasing the motivation of students because during the activities they understood the guide who was speaking in Spanish and they felt very happy and satisfied.
The accommodation was the best, very comfortable and in a beautiful neighborhood, very beautiful and green. We chose Malaga as a city by the sea and Varna and famous for its history and Cervantes International School due to its prestige and online opinions we read on internet.
I also want to especially thank constant attention, extraordinary accuracy and helpfulness of administration department staff and especially Manuel, with whom we were in contact and collaborated during a long period of time in organizing this trip.
In the next years we intend to continue this initiative which has been succefully thanks to the collaboration of the Cervantes Escuela Internacional team.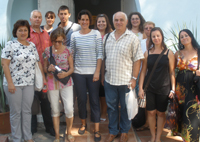 Group from
Bulgaria
The kindness and the confidence of the school staff are remarkable. The visit to Granada was very nice, with really competent guides. The city tour of Málaga was also very nice. The students were very happy and satisfied with their teachers.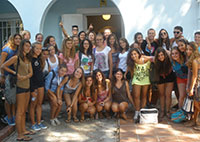 Group from
Italy
Fuimos a Málaga y a Cervantes Escuela Internacional para aprender y estudiar español; 15 alumnos y 2 profesoras. A los alumnos les ha gustado mucho. Aprendieron muchísimo en sus clases con profesores muy profesionales. También hicimos excursiones a Granada y La Alhambra, y luego al Museo Picasso, experiencias inolvidables.

Estuvimos una semana en Málaga. Los jóvenes vivieron con familias españolas y así pudieron practicar el idioma todo el tiempo.

Nos sentimos muy bienvenidos, todo fue muy bien organizado pero el único problema es que una semana pasa demasiado rápido..

Lo puedo recomendar a todos ir a Málaga y a Cervantes Escuela Internacional. Buen viaje :-)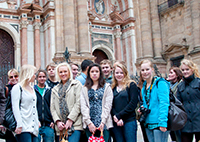 Group from
Norway
Your students will enjoy the beach while learning spanish