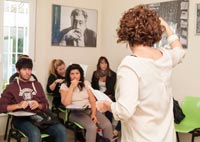 This course responds to the demands for specific language training in the professional field, and it is part of the training offer categorised as Spanish for Specific Purposes (SSP).
The course will enable participants to understand legal texts and arguments, to draw up documents and to correctly express themselves using legal vocabulary. In addition, they will get to know the Spanish Legal System and the institutions it is made up of. Taking this into account, the course will be of special interest and value for non Spanish speaking Law professionals who are carrying out or who want to carry out their professional activity in Spain or whose clients require a deep knowledge of the Spanish lexicon, grammatical constructions and legal system.
Practical information:
Levels: B2, C1 and C2
Maximum number of students per class of Spanish for the Legal Profession: 6
Course programme for 1 week (Monday to Friday): 20 training sessions on Spanish for the Legal Profession
Total lessons of 50 minutes: 20
Read more about our Spanish for the Legal Profession course
WHO IS IT FOR?
This course is directed to Law professionals in general and, more specifically to lawyers, civil servants and translators, as well as Law students in their final years.
REQUIRED LEVEL
According to the Common European Framework of Reference for Languages, this course is aimed at students with levels B2, C1 and C2.
COURSE OBJECTIVES
The main objective of the course is to enable students to:
Understand legal texts, considering these to be not only laws and sentences, but also all kinds of documents and even specialist press articles.
Draw up documents with a correct use of lexicon and verbal tenses
Understand dialogues, dramatisations and oral arguments
Express themselves orally using specific vocabulary through debates, case studies and oral presentations
But, in addition to the purely linguistic knowledge the Spanish for the Legal Profession Course aims to introduce students to other aspects equally or even more important:
 The Spanish Legal System, introducing the student to the different branches of Law.
 The Institutions and Organisms, presenting to students their structures and operations.
 The cultural component of Law in Spain and the particular views of the average Spaniard on the world of Law.
 The contrast between the formal and informal registers, paying special attention to Forensic Oratory and written expression.
CONTENTS
Introduction: The Spanish Legal System.
Legal language.
Legal vocabulary.
Branches of law:

- Procedural law.
- National law and International law.
- Labor law.
- Civil law.
- Criminal law.
- Tax and financial law.

Contracts.
Criminal offences.
Claims.
COURSE MANAGEMENT
Cervantes Escuela Internacional's Director.
METHODOLOGY
A practical-theoretical methodology is followed. Each one of the modules is composed of the following elements:
Listening.
Video.
Theory.
Reading.
Exercises.
Evaluation Test.
Final Task.
Using the listenings or videos, the theory presentations and the readings, participants will carry out different activities such as working on a case study, drawing up different types of documents and legal texts, preparing oral presentations, etc.
ACCREDITATION
Attendance is obligatory and non justified absences cannot exceed 15% of the total duration of the course under any circumstances.
Only those participants who have fulfilled this attendance requirement will receive the certificate issued by Cervantes E.I.
Prices
| 1 week | 2 weeks |
| --- | --- |
| 580 € | 1.050 € |
STARTING DATES 2022
every monday of the year.
Note: Applications for this course should be made at least one month before the desired starting date.
Comments

Mahamat K. Do Do, USA
Spanish for the Legal Profession Course, 1 week, (23/04-27/04/2018)
"First of all, I am delighted with everyone. The personal team has been good to me throughout my stay. The course has been good. The accommodation: in everything perfect. Malaga as a city: wonderful. In short, the course will help me better understand the entire Spanish legal system from now on."

Maryse Ali, France
Spanish for the Legal Profession Course, 2 weeks, 28/02-15/03/2015
"The legal course of Cervantes International School exceeded my expectations. Although the course only lasted two weeks I can say I have a solid foundation on the Spanish legal system and that my Spanish improved. The classes are given by a lawyer and professional, friendly and very knowledgeable linguist. Besides practical activities were tailored to my interests."

Maria Emanuela Boccafoschi, Italy
Spanish for the Legal Profession Course, 2 weeks, 29/07-09/08/2013
"The Spanish for the Legal Profession Course is very interesting, well organized and gives a very good overview of Spanish law. It also serves as a very good exercise for improving the language.
The school is welcoming and the organization impeccable. They offer a variety of interesting courses and activities.
My experience with the family was better than I had expected before I came and I strongly recommend staying with a host Spanish family.
Malaga is a very welcoming city, public transport is very well organized and I have many good memories of my stay."