Improve your skills in the teaching of Spanish as a Foreign Language
Training course for teachers of Spanish as a Foreign Language that want to improve, broaden and refresh their knowledge and skills in teaching the Spanish language and culture.
Who it is for: Native or non-native Spanish teachers who currently teach Spanish as a foreign language outside of Spain.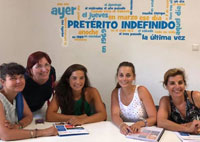 If this technique is that which teachers use until we become professors, at CEI we want to help you to continue growing and to continue feeling the enthusiasm to teach Spanish using new skills and resources.
Teaching is exciting. That is why we have designed these courses for you that deal with different aspects of teaching Spanish with a reflective and experience-based approach.
The instructive design of the course combines a balance of practical training in order to arrive at the theory, and from theory as a practical exercise. Learning is always a subjective experience set in concrete conditions. Therefore, from the first day, our vision of teaching the Spanish language is supported by and gives specific attention to the use of different teaching materials, both physical and digital. This is an applied course with which to foster your own learning-by-discovery using audio-visual, online, games, audio and printed resources.
We know that you are your own best teacher, that is why we personalize our attention and adjust to your needs and interests at all times.
Scholarships: Erasmus+ scholarship. Our PIC number: 942940687 | OID: E10073173
We have two on-site training courses for non-native teachers of Spanish as a Foreign language: Initiation course and Consolidation course
Starting Dates 2022
14th Feb; 18th Jul; 17th Oct
» Individual and semi-individual courses can be started all the year round. For more information please contact us.
» There is the possibility of opening a new date for a minimum of 4 participants. For more information please contact us.
Read more about our Spanish for Spanish Teachers course
Testimonials

Anne-Laure Sanchez Lacombe
Training course Teacher ELE

"Coming to Malaga has been an unforgettable experience. First, because the city is very nice and especially because the course was very interesting. I will return to France with concrete elements (games) to give my classes. Exchanging with other professors from different countries is also very interesting."

Elena Dolzhich, Spanish teacher in Moscow
Training course Teacher ELE

"Among several language centers I have chosen the Cervantes School International because first I saw on their website a course intended for teachers and second I have always had clear and accurate information whatever I asked for, just from the first moment I put me in contact with the administration of the school. The staff is very attentive and willing to help you whenever. There are organized many activities that help you to deepen your knowledge about the history and the culture of Spain. The course that was offered to me covered the topics I had indicated in the previous questionnaire. The apartment corresponds in everything that was agreed before. The course taught by Patricia was interesting. She puts a special focus on linguistic and grammatical issues. And so it was interesting the course taught by Manuel who explains the use of audiovisual materials and pictures in the lessons. I would recommend this training course for teachers who are interested in further training in their profession."

Elzbieta Wyszynska, Spanish teacher in Sweden
Training course Teacher ELE

"The course has been really interesting. I learned a lot of things regarding the use of Internet in class. In class I learned many things by playing game in Spanish, which has proved to be a very good way of learning a new language.
Furthermore, we went through the grammar again, which was particularly good for me as I learned more about some specific issues that were difficult for me in Spanish."

Narcis Mihail Amariei, Spanish teacher in Romania
Training course Teacher ELE

"I liked that the teachers were really prepared to work new techniques with teachers. The activities were exactly what I expected.
It was a really good course, from the point of view of the time dedicated to make exercises and also to the theory content.
I loved the interactive methods of teaching that for sure I will use in my Spanish lesson in Rumania."
Marta Sukenikova, Spanish teacher in Czech
Training course Teacher ELE


"Malaga is a wonderful city located in the south of Andalusia that is really interesting. Cervantes Escuela Internacional makes possible attend to the lessons and at the same time enjoy the sun, the sea and the beach because is located really close to the beach. Also you can take lunch and enjoy the sea views because the beach is located few minutes from the school. The school offers many courses and levels and the teachers have a huge experience teaching Spanish to students of all around the world. It is also possible find other ELE teachers and because of this I chose a course for teachers and  learn more about how to teach this language.
The school also offers activities during the evenings and you can visit places outside Malaga that make more interesting your time in Málaga.
To those who are interested in learn Spanish I fully recommend Cervantes Escuela Internacional."

Francis Atemo, Kenya
Training course Teacher ELE & Super Intensive

"Soy Francis Atemo de nacionalidad keniana. Trabajo en la escuela Internacional de Kenya como profesor de español y cada verano me gusta ir a España para hacer cursos de formación de profesores de español como lengua extranjera. Este verano fui a la escuela Cervantes para formarme y tuve una buena experiencia. La escuela está bien ubicada y te ofrece la oportunidad de conocer a otros profesores de español tanto nativos como extranjeros. Intercambian ideas entre ellos y nos enseñan nuevos cambios y metodologías actualizadas en la enseñanza de español, tomando mucho en cuenta las necesidades de los profesores que hacen el curso en sus centros de enseñanza. Me ha sido de gran ayuda y con toda seguridad recomiendo la Escuela Cervantes a todos!!!".

Debra Betts, Spanish teacher in Texas, USA
Training course Teacher ELE

"Me ha encantado el curso de profesores porque ha sido una buena mezcla de gramática, cultura y vocabulario, en un sitio muy histórico y con buen clima. También, la profesora ha sido buenísima".
Jennifer González, Spanish teacher in Texas, USA
Training course Teacher ELE


"Mi experiencia aquí ha sido fantástica. He aprendido un montón de gramática, la historia de España y la de la ciudad de Málaga".