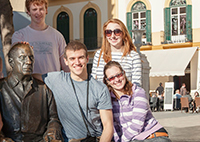 Every week we offer a dynamic, lively and imaginative program of extracurricular activities, which are the perfect complement to your Spanish studies. They will help you to learn new vocabulary and practise what you already know thanks to our highly qualified team of activities and excursions leaders who will answer any query you may have.
At Cervantes EI we want you to take part in the activities we offer, so we are always open to your suggestions for new activities and excursions.
Read more about our activities
Activities organized by Cervantes International School
From beach volleyball to tapas tours in the centre of Malaga, at Cervantes we carefully plan each day of the week so that you enjoy every moment of your stay in Malaga.
Examples of Activities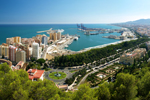 Malaga tour
Cultural visit of the town centre during which we will discover the different civilizations that have passed through Malaga and visit the most important monuments in the city. This activity enables students to get their bearings around the city, find out how to get around, and the opening hours of shops, banks, etc.

Chocolate con churros
Typical Spanish snack in one of the most emblematic cafés in Malaga. Hot chocolate is delicious on its own, but add to it the magnificent churros and it becomes a delicacy.


FILM CLUB: Pedro Almodovar
Welcome to our own movie house, with popcorn and soda, where we spend a wonderful evening watching a Spanish movie with Spanish subtitles, by this famous director from the Mancha who has won many prestigious awards such as the Oscars. The film will be followed by a discussion.


FILM CLUB: Alejandro Amenabar
Welcome to our own movie house, with popcorn and soda, where we spend a wonderful evening watching a Spanish movie with Spanish subtitles, by this great Spanish film director, honoured at the Oscars Ceremony in Hollywood. The film will be followed by a discussion.


Alcazaba Visit
People in Malaga call it "the little Alhambra" because of the great similarity of its small yards with the courtyards of the Alhambra. Guided tour through the interior of the castle with explanations of the most scenic locations, and photos of typical costumes from the Arab culture.


Cathedral Visit
Visit one of Andalucía's most valuable Renaissance jewels in Malaga. Discover, with the expertise of a guide, the details and history of this unique cathedral that is missing a tower. Known in Malaga as "La Manquita" (One-Armed Lady), this Cathedral will surprise you with both its history and its construction.

Spanish Cuisine Workshop: Black Rice
Learn to cook and enjoy one of South Andalusia's most peculiar rice dishes. Additionally, you will have the opportunity to expand your vocabulary and chat with our chef who is an expert in Paellas. At the end of this workshop all participants can relax sipping on Sangria while enjoying this unique rice dish.


Tapas Tasting
A different kind of day and one to enjoy in the company of other students in the school. Enjoy this guided visit to Spanish and Andalusian Gastronomy, where you will try the typical Spanish Tapas to suit everyone's tastes; vegetables, meat and fish with drinks included.


Film Workshop
Take a tour though Spanish Film and its history alongside our expert guide. Using a series of snippets of Spanish Movies our guide will show you how film has influenced much of Spanish history. A unique workshop in which you will also work in groups and participate in activities to widen your vocabulary. Have fun while you learn!


Bowling
Entertainment...Play...Sport... all in one, and most importantly we have fun together. Visit one of the important commercial centers in Malaga and enjoy bowling with your classmates. An activity designed for all to enjoy.


Spanish Cuisine Workshop: Paella
Enjoy Spanish Gastronomy while cooking one of our most famous dishes. Together with our instructor and expert cook you will learn not only this recipe, but also the best preparation tricks. With the best part last, you will be able to enjoy the Paella together with our traditional refreshing sangria. A highly recommendable experience.


Boat Ride
Do you want to get to know all sides of Malaga? We offer a different type of activity that will show you Malaga and its bay from another perspective. Music, sun and the sea breeze make the perfect combination to practice your Spanish with your classmates as well as enjoy a boat trip and at the end of the tour, for the more adventurous, a dip in our crystal clear waters.

Trivial pursuit
Play in teams with your classmates. Answer questions on literature, vocabulary, sport and other topics and win to receive a surprise gift. Discover a large amount of vocabulary that you will be able to learn playing the Spanish version of this game while being assisted by our instructor.
Literature Workshop


Literature Workshop on the Generation of '27. A workshop designed to discover the authors of this generation: Lorca, Machado, etc ... Authors that were able to do their best narrative works during a difficult period in Spanish History with political instability. Novels and poems that will not leave you indifferent and where you will discover the most beautiful words.
"Becquer" Literature Workshop
Literature workshop on the author Becquer and Spanish Romanticism. A workshop designed to discover this author and his life story, under the guidance of our teacher.

Ham tasting at el Pimpi
Discover Malaga´s most famous wine cellar, which has seen the most famous artists in Spanish history pass through its doors. In this activity you will taste three types of Iberian ham (cebo, recebo y bellota) and four types of wine (white, fino, trajinero and chorrera). But that is not all, enter in the most fascinating corners of this wine cellar where you will discover a traditional Andalusian patio and fantastic balcony.

Welcome Party
This free activity is held in the school during the summer time. Enjoy an authentic Flamenco Show in our patio as well as tasting a variety of the most typical Spanish foods: tortilla, ham and cheese. You will also be able to try our sangria and chat with our teachers in a fun party in which you will also get to meet your new classmates.

Beach Games
Situated just a few meters from the beach, our school is perfectly located for this activity. Accompanied by an instructor, play beach football, table-tennis or beach volley. And of course, as long as it´s sunny, take a dip in the sea.

Gyncana
Beach competition to have fun while practicing your vocabulary. Participate in this competition discovering each clue prepared by our instructor. Become a detective and find the prize. A contest designed to improve your vocabulary and get to know your classmates.

Visit to the Cueva del Tesoro
Visit one of the only three caves in the world with marine origins and discover how the sea has sculpted marvelous shapes in its walls which will make your imagination soar. A unique experience in which the sea and the waves will accompany you during the tour. Enter into the fascinating world of del Tesoro (the treasure) and discover why this famous cave gets its name.
Organized Museum Visits

Museum of contemporary Art
Guided tour of the contemporary art exhibition in Malaga, which attracts some of the world's leading contemporary artists in conceptual art. Artists with a different vision of Art in the 21st century.


Picasso Museum
Educational visit of the museum dedicated to the great Malaga painter, where we can enjoy a total of 150 works from different periods exhibited in two large rooms. There is a video in English, with Spanish subtitles, of the life and work of the painter. The museum also hosts an exhibition of archaeological remains discovered during the excavations of the XVI century palace where it is located.

Visit to the Thyssen Museum
The Baroness Carmen Thyssen is owner of one of the most important art collections in Spain. Part of this collection can only be viewed in Madrid and in Malaga where the Baroness wanted to share this artistic and cultural wealth. Visit this museum where you will find not only paintings, but also carvings, sculptures and works of great international relevance. A unique surprise that will definitely not leave you indifferent.

Plaza de Toros and the Bullfighting Museum


Discover the mythic Malaga Bullfighting ring and it´s Bullfighting museum under the guidance of our specialized guide. The Malaga bullfighting Ring is considered a bullfighting institution in Andalusia. Called "The Malagueta", it was declared a site of cultural interest in 1981. In this ring, have ever fought and fight all the great bullfighters Spain has had throughout its history. Enjoy this blend of tradition and culture and discover the origins of this traditional Spanish art.
Wine Museum visit
Wine is without a doubt synonymous with tradition and culture. Trace the history of wine and take pleasure in tasting wine in one of Malaga´s most unusual museums. Discover the different smells, ancestral recipes and the traditional methods of producing this very Spanish drink.
Heritage Museum
A unique and quirky museum where you can discover the history of Malaga city via recordings and scale models. Its location opposite the fountain of the Three Graces ensures that visitors not only enjoy what hangs on its walls, but also the wonderful views over the bay of Malaga that can be seen through the large windows.
Visit to the Museum of Crystal and Glass
Three thousand items of crystal and glass await you in this museum in which is not only shown the history of this traditional art form, but also how the most preciously maintained pieces are made. Our guide will teach you about the characteristics of this medium which is capable of thousands of forms and colors.
Weekend Trips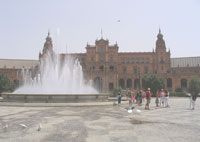 During the weekend day trips, we will visit Andalucian cities of great cultural importance, such as Granada, Seville, Cordoba and Ronda and also places like the British colony of Gibraltar, the snowy peaks of "Sierra Nevada" and the exotic country of Morocco. All these excursions are possible, in part, thanks to Malaga's central geographical location in Andalusia, and its excellent communications.
Some weekends trips are also organized to the prehistoric caves of Nerja and the picturesque towns around Malaga like Nerja, Frigiliana, Competa, Marbella, Mijas, Fuengirola, Torremolinos, Antequera or Benalmádena.
Description of the Excursions
CULTURAL VISIT TO GRENADA
The Alhambra ("Red Castle "): fortified city palace built by the Arab kings from the eleventh to the fourteenth century. It is the most visited monument in Spain (more than 2 million people per year)...

CULTURAL VISIT TO SEVILLE
La Giralda (1184-1198): The minaret of the old mosque. Between 1558 and 1568, the Christians added the bell tower to the minaret, which reaches 95 meters in height. The Giraldillo, which crowns the tower, represents the victorious faith...


CULTURAL VISIT TO CORDOBA
Mosque - Cathedral: It is built on a former Visigoth Christian church. Roman and Visigothic materials were used for its construction. It covers an area of about 22,000 m2. It is the only major mosque preserved in Spain. Its interior contains 856 columns...


CULTURAL VISIT TO Antequera and El Torcal
Torcal Natural Park: It was granted natural park status on 18 July 1989, thus giving this area of outstanding natural beauty special protection for its flora, fauna and landscapes, etc...

EXCURSION TO Marbella and Puerto Banus


Marbella: World famous city for tourism, it combines natural and traditional attractions - the sun, the beach, an exceptional climate and golf courses -, with a great historical legacy that remains alive in the heart of the city...

EXCURSION TO Nerja and Frigiliana
Nerja caves: discovered by chance in 1959, they rank amongst the most

beautiful caves in Europe. Each year, millions of visitors travel through the halls and galleries adorned with stunning stalactites and stalagmites formations. Among these, note the impressive central column in the Cataclysm room, which stands 32 meters high...

RONDA EXCURSION
The bullring in Ronda. It opened in 1785. It was originally the headquarters of the Royal Cavalry, an order for the military education of the nobility. It can accommodate over 5000 people. Every September, the famous "Corrida Goyesca" is celebrated in memory of the legendary Pedro Romero. The bullfighter, born in Ronda, killed more than 600 bulls during his bullfighting career and he was one of the founders of modern bullfighting. Nowadays, the matadors

who take part in the Corrida Goyesca dress up in nineteenth century costumes...

CULTURAL VISIT TO the village of Mijas
The great variety of shops makes Mijas the ideal place to buy all kinds of souvenirs and memorabilia from the Costa del Sol...
If you would like to see the calendar for our excursions, please, click here