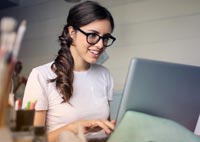 This course combines the Intensive Spanish course (20 classes per week) with the acquisition of professional work experience through an internship in companies in different sectors such as marketing, publicity, tourism, design, art, construction, IT, administration, etc. With this course the student will improve their level of Spanish and with an internship improve their CV, practise even more Spanish, and build on the vocabulary learnt in Spanish classes.
The course includes the search for specific internships¡, supervision during the internship, and all administrative documentation and procedures.
On finishing the Spanish course, the student will receive a certificate detailing the number of weeks and hours of their course. Additionally, on finishing the internship the student will receive an attendance certificate which accredits their placement in the company where they undertook their internship.
Imagine working in Malaga using Spanish!
Levels: A2, B1, B2, C1 y C2
Maximum number of students per class in Intensive Spanish: 10
Minimum course duration: 2 weeks of the Intensive course. The duration of the internship will be agreed on between the student and the company where they will undertake their internship.
Course composition: (Monday to Friday) 20 classes of the Intensive Spanish course per week during the number of weeks chosen by the student, plus an internship in the selected company.
Duration of each Spanish class: 50 minutes
Minimum age: 17 years
Price: 775€ (2 weeks of the Intensive Spanish course + Internship in a company)
Extra week of the Spanish course: 180€
Starting date: Any Monday