This program is designed for people from 55 years (Students less than 55 years old can participate in this type of course if they have same objectives) of age and up who want to learn Spanish in a more relaxed atmosphere than in the intensive courses while discovering Spanish art and culture first-hand.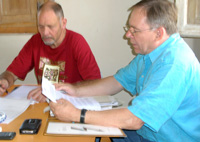 During the week in the afternoons, the school organizes specific activities and optional excursions adapted for the participants, for example:

Guided walking tour
Visit to hamman
Chocolate con churros
Tapas outing and wine tasting
Museum visits
Cultural and flamenco workshops
1 excursion to another city on the weekend
Practical Information
Lessons per week: 20
Lessons duration: 50 minutes
Course duration: 1 or 2 weeks
Hours of the Classes: Mornings or afternoons
Levels: All levels, from A1 to C2
Price: 390€ / one week | 630 € / two weeks. Included: Intensive course, welcome pack, cultural programme from Monday to Friday and airport transfer (round trip).
IMPORTANT: If there are not enough students to run a level of this course (55+), the students will join the Intensive course most suited to their level.
Starting Dates 2022
Comments

Hans Overeem, Netherlands
Senior course (from 06-11-17 to 10-11-17)
"The school is in a nice location, Pedregalejo, quiet and authentic and nearby the city centre of Málaga. The staff people are kind and helpful. Regarding the classes, I was in a small group so everyone got much attention. The teacher was professional and a nice guy. We always spoke in Spanish which is difficult sometimes, but useful. Every day it is possible to participate in activities about culture, food, etc. Cervantes International School is absolutely to recommend."

Susan Blennerhassett, UK
Intensive course (from 03-11-13 to 16-11-13)
"I have enjoyed mu 2 weeks here enormously and I would definitely recommend the school to anyone wanting to come to Spain to study Spanish. I think the courses are well organized and the teachers have been professional, enthusiastic and encouraging. I will take some ideas back home for my English teaching! My accommodation was very good as well. I hope more people interested in a Lorca workshop next time I come!
Thank you very much for everything. I wish to come next year!"

Patience Humphrey, USA
Intensive Plus course + Golden age course (from 05-09-13 to 02-11-13)
"Good team both, teachers and administration. Helpful + full energy. A lot of fun.
About the activities I only did the Baños Arabes (good) as the golden age course has only other person more this week.
Course and lessons were excellent. I got a little tired of her 1 ½ months of the cultural classes but were also very good.
I choose Malaga for location + sun. I choose the school because they answer us very fast to all my questions and e-mails. Very Important!"

Heidrun-Kuhr-Augustin, Germany
Golden age course (from 06-10-13 to 12-10-13)
"I really feel good with the teachers, all were very kind. The idea of visit a Turkish bath (Hamman) during the activity program was very good. I also would like to thank you very much to Manuel, the guide that did a really good job.
I would like to have more grammar during the lesson but it was ok.
The residence garden is really good, the kitchen is big but the rooms are small. For one or two weeks the residence is perfect."