The city has taken a turn for the better in recent years, with an urban revolution and the opening of important museums and the remodeled pier has opened to locals and visitors.
Malaga is now not only a touristic centre in southern Europe, but also a city that in recent decades has undergone a profound urban and cultural revolution that has placed it on the international map as one of the European Capitals of Culture, with high-profile museums such as the museum dedicated to Pablo Picasso, the Pompidou Centre, the Centre for Contemporary Art and the Carmen Thyssen museum of Spanish and Andalusian painting.
The capital of the Costa del Sol now attracts 6 million visitors each year and, of these, most emphasize the cultural offer as one of the main attractions. The offer of new museums must be added to the traditional monuments like the Alcazaba, the Roman Theatre and the Gibralfaro Castle.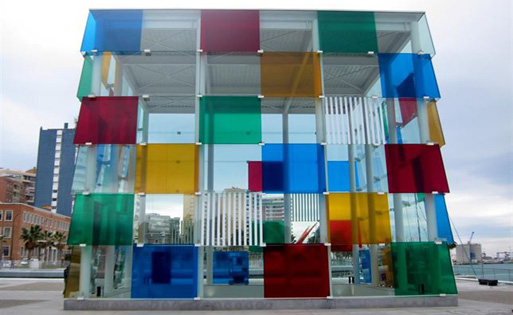 Centre Pompidou Malaga is one of the first of several pop-up versions of the famous Parisian gallery.
With a population of 569,130 inhabitants, Malaga has an annual budget of approximately 700 million Euros, and nearly 5% is dedicated to culture.
In the past decade the urban renewal that the city has experienced the city has also been crucial, which since 1998 is in a process of profound remodeling and is part of the project called The Special Plan for the Port of Malaga. This project has enabled public use of the port creating a lavish palm grove, an extensive shopping and dining area and an advanced cruise terminal which has placed Malaga as a leading port of Spain in receiving cruise passengers in the Mediterranean, ranking third place after the port of Barcelona and the Balearic Islands.
Malaga is the sixth largest city in Spain, the second largest in Andalusia, and forty-sixth in the European Union.