It has been proven that culture immersion is the fastest, most effective way to learn a new language. You not only learn to speak a language fluently, but you also have the opportunity of learning about the culture of the language and creating connections with other people that have similar viewpoints and interests. Learning a language may appear difficult when trying to learn by yourself or in a classroom at home. However, learning a language abroad facilitates your ability to learn the language while making the experience fun, memorable and exciting.
There are various other benefits to learning a foreign language abroad:
You will develop a greater awareness and deeper understanding of other cultures and a more positive interaction with people from other nations.
You can explore career opportunities involving a foreign language.
Acquire an indispensable skill in a global world, facilitating your ability to communicate with others and improving your potential for success in your chosen field.
Prepare for travel for business, education, or pleasure.
Learn to appreciate the aesthetics of literature, music, art, and folklore of other cultures.
Develop more flexibility in thinking processes through problem solving, conceptualizing, and reasoning.
Enjoy the satisfaction of achieving a personal goal---learning another language.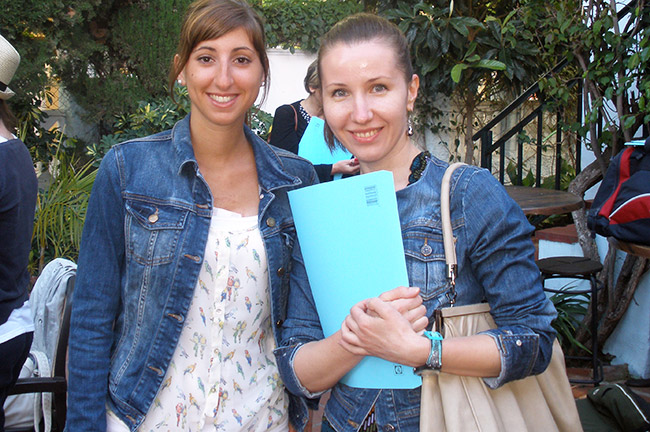 In short, study abroad increases your flexibility and openness to new ideas, allows you to enjoy academic and experiential learning, and deepens cross-cultural understanding while it encourages independent thinking. Your intellectual maturity and self-confidence will rise along with your career prospects. All in all, you will become better prepared for your life and work in our increasingly globally interdependent world. And this is just to name a few of the benefits!
You won't regret studying a language abroad. It is an experience that will build your character while helping you acquire the skills you need to succeed.
In Cervantes EI you can take courses from 1 to 36 weeks. Our courses start every Monday and we have different accommodation options available from the Sunday prior to the start of your course. We recommend our Intensive course of 20 classes and accommodation with a Spanish family to fully experience the Spanish culture. 2 weeks of the Intensive course + Accommodation in Host Family (double room and two meals per day) cost €775,00.
Enrol before 25th May and you will receive a €100,00 discount for all 2 week stays!