Looking for an easy paella recipe? Look no further, this is simplest and easiest paella recipe you´ll find!.
Servings: 6-8 persons
Difficulty level: Medium
Preparation time: 60-90 minutes
Ingredients
300ml (1/2 pint) olive oil
2 bowls of rice (1lb. 5 oz. approximately)
5 bowls of fish broth
1/2 lb. of shrimps
2 mid-sized squids
2 lb. of mussels or clams
1 green pepper
1 red pepper
1 small can of peas
1 small onion
2 tomatoes
Saffron
1 clove of garlic (optional)
Parsley
Salt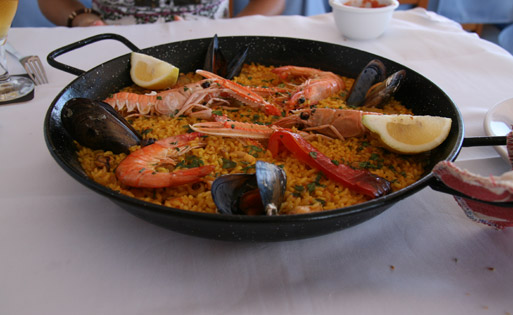 Preparation
Heat half the olive oil in a pan and sautée the chopped onion for 5 minutes. Peel the tomatoes, remove the seeds and dice. Add to the onions. Let it braise for around 5 minutes while mashing the tomatoes with a skimmer. Strain and throw it in the paella pan.
Place the shrimp shells in cold water in a pot and bring to boil. Reserve the tails. In another pot cook the mussels with a little water (washed well with salt and water first). As soon as the shells open up, remove from heat straight away and remove the empty half of the shell. Reserve the other half with the mussel inside. Strain with a very fine strainer both the broth in which the mussels were cooked and the shrimp shells.
Add the remainder of the oil to the paella pan. Dice the green pepper into half inch squares and add to the pan. Throw in the squid, cut into ribbons or fine rings. Add the rice. Continue stirring with a wooden spoon to avoid browning. Salt to taste. Add the broth from the mussels, shrimp shells and broth bowls. Shake the paella pan ensuring that the broth is evenly distributed. Cook over medium heat.
Meanwhile, mash some garlic (optional) with the parsley and saffron and some salt. Wet this mixture with a few spoonfuls of tepid water. Add to the rice and shake the paella pan to mix. Add the shrimp tails. Once the broth has reduced by half decorate the paella red pepper cut into ribbons, the mussels and the peas. Cook for 20 minutes.
Once the rice is cooked and the broth reduced, remove the paella pan from the fire and place on a wet cloth. Allow to stand for 5 minutes. Garnish with lemon wedges.
If you want to learn more about Spanish Cuisine we recommend you take a Spanish course at Cervantes EI and stay with Spanish Host Family.