Many of you study Spanish regularly at your university or other learning centre in your city. Studying Spanish in your environment may allow you to make big steps in Spanish grammar, but the best way to make large improvements in your spoken Spanish and be able to communicate in real life situations with native Spaniards is, without a doubt, to travel to a country where they speak the language that you are learning, and in this case - Spanish.
Also, if you decide to travel to Malaga, Spain, to learn or improve your Spanish, the best way to make the most of your stay in Spain is to live with a Spanish family. At Cervantes EI, we have a large data base of host families available with whom you can stay. The families are very close to the school and you can stay with a family that is in line with your preferences. For example, if you prefer to stay with a family that has children or not, if you want a family that has pets or not, if you prefer to live with a family that has a garden or swimming pool. The family will also respect your dietary needs, for example if you wish to have vegetarian food, or you don´t eat fish etc. Although we can never 100% guarantee that we can meet all your preferences, you can be sure that we will do everything we can to do so with everything we have available.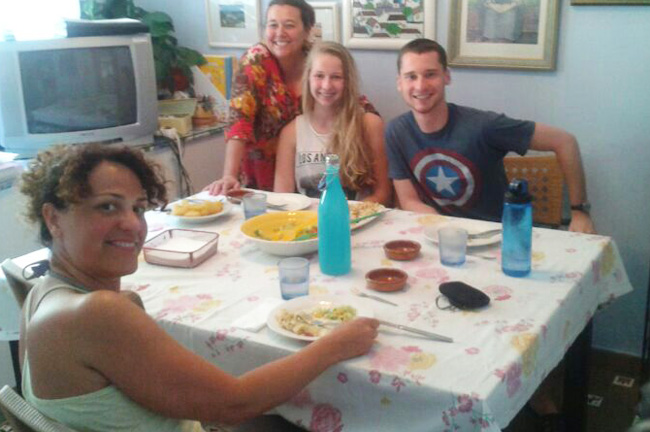 Living with a family will give you a lot of opportunities to speak Spanish, and to learn the expressions that Spaniards use day to day that you would never learn in the grammar classes that you regularly attend in your own cities. You will also discover the many cultural aspects in the Spanish-speakers life that, without a doubt, will make your trip to Spain an unforgettable experience and change you forever.
What's more, if you come during this summer season, as our school and families are located very close to the beach, you will be able to have the perfect vacation combining learning Spanish with a fantastic holiday close to the sea, so hurry up and book now!
If you aren´t able to travel to Spain you can make the most of new technologies and take a Spanish Course Online. We have packages that adapt to your needs and you choose the times and the number of classes that you wish to have each month.
Vocabulary:
Casita madera, parcela llana: Small wooden house, flat plot
Amueblada, reformada: Furnished, modernised
Precioso piso, suelos mármol: Lovely flat, marble floors
Piscina, jardines, cerca playa: Pool, gardens, close to beach
Armarios empotrados: Built-in wardrobes
Estrenar, garaje, trastero: Brand new, garage, junk room
Amplia cocina, vistas al mar: Big kitchen, sea views
¿Ruido? ¿Qué ruido?: Noise? What noise?