Learn Spanish in Malaga with Cervantes EI
Founded in 1986, Cervantes Escuela Internacional has more than 35 years of experience in teaching Spanish as a Foreign Language. Cervantes E.I. has high quality and internationally recognized interactive pedagogical material and provides personalized attention to each student. In addition, our sociocultural program guarantees an excellent linguistic and cultural immersion program.
Cervantes E.I. is situated in the East area of Malaga (Pedregalejo); the most beautiful and characterful area of the Malaga. An area with incredible beaches, maritime boulevard, vegetation, and many restaurants and bars where you can enjoy a delicious meal or coffee by the beach with other students. And is only 10 minutes from Malaga city center.

Cervantes E.I. is an Accredited Center by Instituto Cervantes and founding member of reference organizations in the field of Spanish as a Foreign Language.
GET TO KNOW THE LOCATION
Nationality mix at Cervantes EI
We love Malaga and this is why Cervantes EI is located in Malaga, south of Spain
Malaga is a city of approximately 600,000 inhabitants located on Spain's Mediterranean Coast. The city's sunny weather, scenic country side and abundant beaches have made it a popular destination for tourists from around the world. The city also enjoys a vibrant culture and academic atmosphere, attracting a significant population of international students who wish to learn Spanish. MALAGA'S history goes back nearly 3,000 years to its founding by the Phoenicians. The sun shines more than 320 days a year - the average annual temperature is about 19° Celsius.
LEARN SPANISH IN MALAGA
Accreditations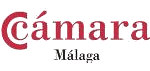 Read More >>>
Collaborations:
Cervantes EI is recognized by the Instituto Cervantes as an accreditted center where students can take the DELE, SIELE and CCSE exams:
What students say about us?
A year has passed, I remember my first day at school, my first class and my first contact with native people. I started in an A2 and I'm already in a C1. And as a year is a very long period because I have had # LUCK # to live a mixed experience; post-covid classes and classes during covid...

I really enjoyed my stay with Cervantes Escuela Internacional in Malaga. The school has taken my questions and problems seriously and has answered them professionally, such as my change of accommodation!...

It was three wonderful weeks in Málaga! I've been very happy with the Cervantes Escuela Internacional School. The lessons, activities, staff - all has the highest level!...

I have only one word to describe my experience in Cervantes Escuela Internacional school "marvelous". I started this adventure the 27th of June for 11 weeks...

Cervantes Escuela Internacional School is a young and dynamic language school, the personal is open-minded and very friendly. The organized activities are diverse and varied every week...

Lydia was the greatest profesora always making sure our class understood the content. The classes are fun and environment is comfortable so it´s easy to practice and learn Spanish...

I was very happy that I came to the school. And I'm so happy to meet Spain to meet with school stuff and people made me so happy...

Cervantes Escuela Internacional is a good place if you want to learn Spanish, it's a good choice. Even if it's not big, it's a sweetie school. The teachers are very nice, always have patience to students...