Spanish for Spanish Teachers
This course is for non-native Spanish teachers who want to refresh, deepen and perfect their knowledge of the Spanish language.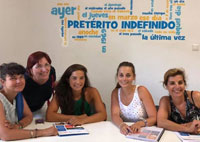 In this special course you will learn about the most common and latest methods of Spanish tuition and the different didactic techniques available in order to improve your work.
The concept of the course is to increase those practical and theoretical aspects of the Spanish tuition which are significant for all Spanish teachers employing different didactic materials (audiovisual, internet, games, written material etc.), tuition types, student's evaluation, solution of problems emerging in class etc.
Practical Information
Number of Lessons of 45 minutes per week: 35
Duration: 1 week or 2 weeks
Levels: B2, C1 & C2
Maximum Students per Class: 12
Read more about our Spanish for Spanish Teachers course
Preparation:
This course is aimed at teachers of Spanish as a Foreign Languages and provides the acquisition of new language and learning skills they can apply in their own classrooms. To this end, the course will provide expertise on the latest methodological currents in the teaching of Spanish as a Foreign Language and the participants will learn about all the skills needed by the Spanish teacher, his/her resources and strategies.
The design of the course aims to develop the practical aspects of interactive teaching of the language, paying particular attention to the use of different materials (audiovisual, Internet, games, written materials, etc..), types of lessons, student evaluation, solutions to potential problems that arise in class, etc.
* Participants will receive a needs analysis questionnaire prior to the start of the course in order to determine their priorities where they can also rate the different possible content options in order of preference. It should be completed and send to us a month before the start of the course. The tutors will adapt the contents to the interests of the participants.
Objectives:
To jointly discuss and reflect on the guidelines and recommendations proposed by the Common European Framework of Reference for Languages: Learning, Teaching Assessment, from the point of view of the different educational realities of each teacher and/or teaching centre.
To provide the teachers of Spanish as a foreign language with the necessary resources required in their daily language teaching work.
To introduce the participants to the latest developments in the field of teaching Spanish, current Spanish literature, and the methodological and didactic aids in the teaching/learning of Spanish.
To propose different approaches for the development and use of the methods and teaching resources discussed previously on the course.
Methodology:
The design of the course aims to develop the practical aspects of interactive teaching, particularly focusing on: the use of different teaching materials (audiovisual jeans, Internet, games, written materials, etc.), type of classes, student assessment, solutions to the possible problems that can arise in the classroom, etc.
The course is both theoretical and practical and participants will be able not only to update their knowledge about the latest methodological trends, the different skills needed by Spanish teachers, resources and strategies, but also to reflect on their own educational experiences, exchange ideas with other participants and perfect their level of Spanish.
Follow up
We will stay in touch with course participants through the Internet and email, resolving any doubts that may arise, advising on various aspects of the teaching of Spanish, evaluating materials and sharing experiences.
Contents of the course
The exact course programme is designed according to the needs of the course participants as reflected on their pre-arrival questionnaires. The contents can therefore vary depending on the preferences and needs of the participants. The following programme is therefore an example of the most commonly requested course contents.
Primera Semana (CURSO DE UNA SEMANA):
Usos conflictivos del subjuntivo
Usos conflictivos de los tiempos de pasado
Usos conflictivos de ser y estar
Por y para
Expresiones idiomáticas en el aula de ELE
Verbos con cambio de significado con o sin pronombre
El Franquismo
Neruda
Nos divertimos en el aula ELE: explotación y creación de juegos
El componente cultural en el aula de ELE.
Segunda semana (PARA CURSOS DE DOS SEMANAS):
Prácticas reales tutorizadas por un profesor del centro (Desde un A1 hasta un B2).
Seguimiento personal por parte de los profesores con más experiencia del centro.
Uso del plan curricular del centro.
Uso y creación de documentos destinados al docente.
Régimen preposicional
Colocaciones léxicas
Errores frecuentes y fosilizados en alumnos extranjeros
El uso del cine y la imagen en la clase de ele
El Marco Común Europeo de Referencia
Prices
| | Number of lessons | 1 week | 2 weeks |
| --- | --- | --- | --- |
| Group: maximum 12 persons | 35 per week | 380 € | 590 € |
| Individual (all year round) | 35 | 750 € | - |
| Semi-individual - 2 persons (all year round) | 35 | 610 € per person | - |
Starting Dates 2017
6th Feb; 24th Jul; 9th Oct
» Individual and semi-individual courses can be started all the year round. For more information please contact us.
» There is the possibility of opening a new date for a minimum of 4 participants. For more information please contact us.
Testimonials

Elena Dolzhich, Spanish teacher in Moscow
Curso para profesores no nativos 4 Jul 2016

"Among several language centers I have chosen the Cervantes School International because first I saw on their website a course intended for teachers and second I have always had clear and accurate information whatever I asked for, just from the first moment I put me in contact with the administration of the school. The staff is very attentive and willing to help you whenever. There are organized many activities that help you to deepen your knowledge about the history and the culture of Spain. The course that was offered to me covered the topics I had indicated in the previous questionnaire. The apartment corresponds in everything that was agreed before. The course taught by Patricia was interesting. She puts a special focus on linguistic and grammatical issues. And so it was interesting the course taught by Manuel who explains the use of audiovisual materials and pictures in the lessons. I would recommend this training course for teachers who are interested in further training in their profession."

Elzbieta Wyszynska, Spanish teacher in Sweden
Curso para profesores no nativos 12 oct 2013

"The course has been really interesting. I learned a lot of things regarding the use of Internet in class. In class I learned many things by playing game in Spanish, which has proved to be a very good way of learning a new language.
Furthermore, we went through the grammar again, which was particularly good for me as I learned more about some specific issues that were difficult for me in Spanish."

Narcis Mihail Amariei, Spanish teacher in Romania
Curso para profesores no nativos 12 oct 2013

"I liked that the teachers were really prepared to work new techniques with teachers. The activities were exactly what I expected.
It was a really good course, from the point of view of the time dedicated to make exercises and also to the theory content.
I loved the interactive methods of teaching that for sure I will use in my Spanish lesson in Rumania."
Marta Sukenikova, Spanish teacher in Czech
Curso para profesores no nativos 12 oct 2013


"Malaga is a wonderful city located in the south of Andalusia that is really interesting. Cervantes Escuela Internacional makes possible attend to the lessons and at the same time enjoy the sun, the sea and the beach because is located really close to the beach. Also you can take lunch and enjoy the sea views because the beach is located few minutes from the school. The school offers many courses and levels and the teachers have a huge experience teaching Spanish to students of all around the world. It is also possible find other ELE teachers and because of this I chose a course for teachers and  learn more about how to teach this language.
The school also offers activities during the evenings and you can visit places outside Malaga that make more interesting your time in Málaga.
To those who are interested in learn Spanish I fully recommend Cervantes Escuela Internacional."

Francis Atemo, Kenia
Curso de Profesores y Super Intensivo Plus, 2 semanas
"Soy Francis Atemo de nacionalidad keniana. Trabajo en la escuela Internacional de Kenya como profesor de español y cada verano me gusta ir a España para hacer cursos de formación de profesores de español como lengua extranjera. Este verano fui a la escuela Cervantes para formarme y tuve una buena experiencia. La escuela está bien ubicada y te ofrece la oportunidad de conocer a otros profesores de español tanto nativos como extranjeros. Intercambian ideas entre ellos y nos enseñan nuevos cambios y metodologías actualizadas en la enseñanza de español, tomando mucho en cuenta las necesidades de los profesores que hacen el curso en sus centros de enseñanza. Me ha sido de gran ayuda y con toda seguridad recomiendo la Escuela Cervantes a todos!!!".

Debra Betts, Profesora de español en Texas, USA
Curso para profesores no nativos 15-19 oct 2012

"Me ha encantado el curso de profesores porque ha sido una buena mezcla de gramática, cultura y vocabulario, en un sitio muy histórico y con buen clima. También, la profesora ha sido buenísima".
Jennifer González, Profesora de español en Texas, USA
Curso para profesores no nativos 15-19 oct 2012


"Mi experiencia aquí ha sido fantástica. He aprendido un montón de gramática, la historia de España y la de la ciudad de Málaga".