Guide On The Academic Programme
Spanish Courses
We offer appropriate courses for all ages, interests and language skill levels.
Cervantes International is the entire year open. If you have some basic knowledge of the Spanish language you can start every Monday.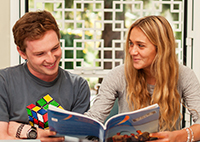 The first day of the school, besides doing the examination to determine your level, and finding out about your level, course and teachers, you will receive a packet with the following information:
Information bulletin about Cervantes International
Information guides and city plans
You will meet the person assigned to you to help you with travel arrangements, bookings, car hire, complementary activities, the bank, the post office, restaurants, etc.
Read more about our Spanish Courses
Interactive Method "You will speak Spanish from the first day"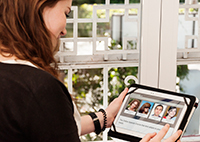 Our wide professional experience has enabled us to develop a teaching system that combines the communication process with structured grammar that is integrated in the communication itself. In our courses we have integrated: oral comprehension, written comprehension, oral and written expression; and the three objectives: linguistic, communicative and sociocultural.
This method is organised throughout the six levels (Europe common framework of Reference for Languages), to allow you to learn and perfect all the skills of the language according to your requirements, in a form both practical and enjoyable. Through different types of activities you will acquire and perfect the skills of reading, listening, speaking and writing Spanish fluently.
To learn a language means to live it and to do this one must immerse oneself in the culture. We offer our students the opportunity to learn about various aspects of our culture: customs, civilization, history, art & literature.
Teaching Materials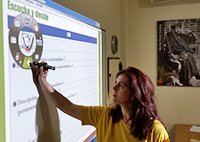 On the first day you will receive a text book that covers grammar, exercises, vocabulary, composition and conversation material. Our experienced teachers augment this with our own teaching materials, special publications, information from the internet and audio-visual material in order to give you a complete immersion in all aspects of the language.
During more than twenty years of experience we have had our teaching staff continually improve and update the Cervantes International teaching materials and all our written material is supported by the latest developments in audio, CD and video materials. You will have access to a library with more than 400 books by Spanish and Latin American authors. Many of them are sorted according to levels of difficulty of Spanish, and the teachers will help you choose the books most suited to your requirements.
Qualified and Enthusiastic teachers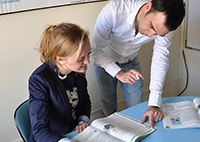 Our team of teachers has been carefully selected, according to their academic qualifications, experience and professionalism. All our teachers have graduated from the best universities and they regularly participate in practical courses on the art of teaching Spanish as a Foreign Language and the latest teaching methods.
They have not only been chosen for their qualifications and experience, but also for their ability to work enthusiastically with students. Your teachers will help you establish some clear learning objectives and will encourage you to participate in Spanish from the very first day. Your classes will be stimulating.
The head of Studies and his team will assess and carefully guide your progress.
Certificates and Reports
At the end of the course Cervantes International will present you with:
An Attendance Certificate, specifying the type of course you have taken and the number of hours attended.
A school report: regularly we will make a test to evaluate the progress of each student. The tutor will explain how your learning is progressing, revising and consolidating the necessary points. At the end of the course and at the end of each four week period, you will receive a report on your progress with detailed comments on each skill area.
Your tutor will give you regular reports, so that you can check your progress.
Levels
Our levels are adapted to The European General Intensive of the reference to languages elaborated by the Linguistics Politics Department of European Counsel, specifically on Curricular Plan of Cervantes Institute.
WHAT IS YOUR LEVEL?

A1 (BEGINNER)
You have little or no knowledge of Spanish.
A2 (ELEMENTARY)
You can communicate in basic situations using the present, past and future tenses, but with some errors. You can understand Spanish when someone speaks slowly
B1 (INTERMEDIATE)
You feel secure speaking and writing in Spanish. You know quite a lot of vocabulary, but you need to practise and expand your grammar knowledge.
B2 (UPPER)
You can communicate fluently and with confidence in a wide range of situations but need a deeper study of grammar structures and learn more specific vocabulary.
C1 (ADVANCED) and C2 (SUPERIOR)
You should have an excellent level of Spanish and be able to communicate effectively as a native. You need to perfect the language to ensure its adequate cultural use by means of extensive study into the subtleties of the Spanish language.
If you want to test your level, please take our free online placement test.