This course programme has been developed in order to give the students the opportunity to learn Spanish at their own level by means of an interactive system, based on the acquisition of the four linguistic skills, and a special course in History, Literature, Geography, Arts, current Spanish topics, etc.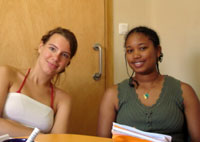 This will help you to approach and deepen your knowledge about the essential cultural aspects that form the real Hispanic world.
The course uses a variety of support teaching materials (our own teaching material, special publications, audiovisual material as well as Internet).
Practical Information
Lessons per week: 20 + 10
Duration: from 1 to 3 weeks
Levels: B1 (Intermediate), B2 (Upper), C1 (Advanced) & C2 (Superior)
Maximum Students per Class: Intensive, 11 students. Hispanic course, 1 student
Hours of the Classes: Mornings and Afternoons
Composition of the Course:

10 Lessons Grammar & Vocabulary; 10 Lessons Development of Language Skills and Communication

, 10 lessons Hispanic course
Prices: see Pricelist
Starting Dates 2017
Every monday of the year.
Comments

Nozipho Moyo, USA
Spanish + Hispanic Studies Course, 17-22 jun 2013
"As a high school teacher, I have found this week to be an invaluable experience. From the moment I walked through the doors of Cervantes Languague School, I knew I made the right choice. This week has been challenging and very productive. The speaking, listening, reading and writing activities have helped me tremendously. I highly recommend this experience. Thank you Cervantes".

Maika Turner, USA
Spanish + Hispanic Studies Course, 17-22 jun 2013
"Cervantes was welcoming  from day 1. I enjoyed my Hispanic  studies course, and would like to return in the future to take the Spanish for teachers course. Some what I learned this week will help me when I return to teach in my own high school classroom. This was a wonderful experience. Thanks for all of you"