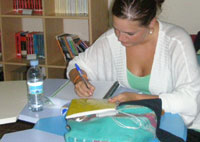 This course is aimed at students or professionals who need to use their Spanish in a business setting. The course is split into 2 parts: theory and practice, and during both parts, the students will use different tools: written materials, specialized publications, audio-visual materials, software applications, Internet, etc.
It is taught by highly qualified teachers with extensive experience in teaching Spanish as a foreign language and deep knowledge of the business world.
Program
1. The company
2. The Employer
3. Commercial companies
4. Human resources
5. Taxes
6. Marketing and advertising
7. Banking and stock exchange
8. Importation and Exportation
9. Business correspondence
10. Communication and negotiation
Practical Information
Lessons per week: 20
Duration: from 1 to 4 weeks
Levels: B1, B2, C1 & C2
Maximum Students per Class: 6
Hours of the Classes: 15:45h-19:00h
Composition of the Course: 10 theory Lessons ; 5 lessons of Development of Language Skills and business communication, 5 lessons of Commercial techniques
NB. The course will be suspended two months prior to its starting date if there is no minimum number of three students.
Prices
| 1 week | 2 weeks | 3 weeks | 4 weeks | Extra week |
| --- | --- | --- | --- | --- |
| 345 € | 665 € | 985 € | 1305 € | N/A |
Starting Dates 2017
13th Feb; 10th Jul; 21th Aug