Activities & Excursions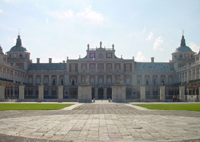 Students are able to participate in a program of activities and excursions outside of school hours. This program offers students the possibility to learn Spanish Art, History and Culture. The price includes entrance fees and a guide from the school for activities, and entrance fees, guide and transport in the school's private bus for the excursions.
Activities
Some examples of the activities offered include:
A walking tour of the old part of Madrid: We will visit the Austrias neighbourhood. Learn about the history of  Puerta del Sol, Plaza Mayor, Town Hall Square and the Royal Palace as well as the history of the streets of old Madrid.
Prado Museum: Visit the most important art gallery in Spain and one of the largest in the world where we will study the paintings by Goya, El Greco, Ribera, Zurbarán, Murillo and Velazquez.
The Museo Nacional Centro de Arte Reina Sofía: A Spanish modern art museum with paintings of Juan Gris, Miró, Dalí and, of course, Picasso (especially the famous painting "Guernica").
The Royal Palace: Built in the eighteenth century by King Philip V, the first Bourbon king in Spain. Visit the rooms of the second largest palace in Europe.
And much more (the Parliament, the Municipal Museum, the Convent of the Descalzas Reales, Convent of the Incarnation, the Royal Tapestry factory and museum, Lazaro Galdiano Museum, the Museum of Decorative Arts, The Goya Pantheon , The City, The Museo Sorolla, etc..).
Excursions
The excursion program includes:
El Escorial: A monastery built by Philip II in the sixteenth century
and
The Valley of the Fallen: The Pantheon of Franco, a symbol of Spain's dictatorship.
Aranjuez: The Spring Palace of Spanish kings.
And
Chinchón: One of the most picturesque villages of Castile.
Segovia: A city with a Roman aqueduct, an Alcázar and Cathedral.
And
La Granja: The Summer Palace of Spanish kings.
And much more (Toledo, El Pardo, Manzanares El Real, Avila). In addition, we will make paella in the field and bathe in a river and spend a day of sunshine and laughter.