Activities & Excursions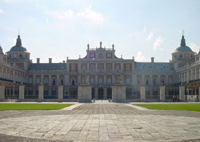 Salamanca is an excellent location to learn Spanish. Salamanca is a city of beautiful buildings, great lifestyle and lots of history. Declared a World Heritage city by UNESCO, Salamanca is world famous for its culture and student atmosphere. It´s university is considered to be the third oldest in Europe having been founded in 1218.
Salamanca has been declared World Heritage City by the Unesco, and in 2002, it was chosen as European City of Culture, together with Bruges in Belgium. Dance, music and art filled the streets of the city, and remain still today.
An extensive cultural program is offered to help students discover Salamanca and all that there is to see and do in this beautiful city, as well as enjoy themselves and practise all the Spanish that they learn on their course.
Typical excusions include:

Plaza Mayor
Madrid
Portugal
Casa de Las Conchas
Béjar and the surrounding sierra
Toledo
Ávila
Old and new cathedrals
El Escorial
Prado Museum