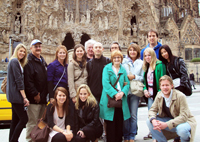 If you prefer to fly to Granada airport, you will need to take an international flight to Barcelona or Madrid first and subsequently fly to Granada on a domestic flight. Alternatively, there are more flight options to Malaga and many people prefer to fly to Malaga airport and then travel to Granada via bus or hire a car.
Flying to Granada Airport
British Airways offers direct flights several times a week from London City Airport (UK) to Granada. Prices of these flights are reasonable.
Granada airport is located 12km outside the city center. The best option is to take a taxi from the airport in order to arrive at your accommodation comfortably without needing to walk through the streets with your luggage. A taxi from the airport will cost you around 28 Euros.
Alternatively, there is a bus service which will take you to the center of Granada from the airport. The bus times correspond with all flights. More information about the airport bus and a map with the bus stops can be found here.
If you prefer, an airport transfer can be arranged for you.
Flying to Málaga Airport
Malaga airport receives a lot of flights and is the closest international airport to Granada. Malaga airport is 125km from Granada and only a 90 minute drive away.
Getting to Granada from Malaga by bus
The best option is to use public transport to travel to Granada from Malaga. Direct buses leave from Malaga airport to Granada bus station several times per day: 10:30, 11:30, 16:00 and 18:30. The bus takes around 2 hours 15/30 minutes and costs 10.87€ one-way.
If your flight arrival doesn´t correspond with these times, it is faster to catch a bus to Malaga bus station and then take a bus to Granada from there. Buses from the airport to Malaga bus station leave every 30 minutes and the journey takes 30 minutes. It is essential to buy your ticket from the ticket office directly outside the arrivals hall before boarding the bus. A single ticket costs 3€. Buses from Malaga bus station to Granada leave every hour and costs 10.87€. The bus trip takes about 2 hours. After 21:30 it is difficult to get to Granada from Malaga. A taxi to Granada will cost you around 140 Euros.
Granada bus station is just outside the city, so you will need to take a taxi or bus into the centre.
If you prefer, an airport transfer from the Malaga airport directly to your accommodation in Granada can be arranged for you.