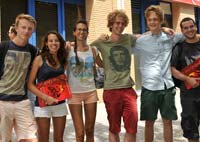 Our Spanish school in Alicante organizes weekend trips to nearby tourist attractions, and also has a complete schedule of afternoon activities. Films are showed once a week and another day is reserved for dance classes - two excellent ways to discover and immerse yourself in Spanish culture.
Normally these activities are free; however you may need to pay out of pocket expenses including entrance fees to museums or transportation.
Frequently organized afternoon events include: city tour, Aquarium, museums and special exhibits, Santa Barbara Castle, local markets and more...