Arriving in Marbella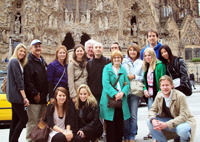 Marbella is an easy destination to get to. Malaga International Airport receives direct flights from all over the world. Malaga airport is just 40 kilometers to the east of Marbella.
Before you arrive in Marbella, you will be given all your accommodation details.
If you wish, an airport transfer can be arranged for you. With this option you will be met on arrival at Marbella Airport and brought directly to your accommodation.
Alternatively, if arriving at Malaga Airport, a frequent direct coach service is available from Malaga airport to Marbella Bus Station. This coach service is operated by Avanza Portillo Bus Company. The bus costs 6 euros and is approximately a 45 minute non-stop trip. Passengers should place any larger luggage in the compartment under the bus.
At Malaga airport, buy the bus ticket from the office located in the open square just outside the arrivals exit. At Marbella bus station you can buy a tick from the Portillo sales office. Please keep in mind there can be a queue. The bus companies telephone numbers are: Marbella Office 952 76 44 01, Malaga Office 952 36 01 91, or General enquiries 902 14 31 44.
During summer the buses run approximately every hour from 07:00 until the last bus at 22:45. In winter there are less bus services between the Airport and Marbella, we recommend always checking the current timetable.