Tailored Courses for Groups
Spanish Courses for Groups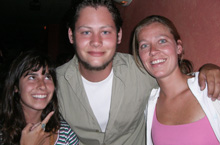 The hours, course content, activities, excursions and accommodation options are agreed according to the requirements and special needs of the group.
Cervantes International has experience in organizing tailored courses for students and professional groups from all over the world. Cervantes International has the flexibility to design programs for groups specially driven to meet the requeriments of every organization or customer. Tipically, The programs have a duration of 1 to 6 weeks and the minimun number of students is 6-7. The courses are given in modern classrooms with air-conditioning.
Please, contact our marketing department for more detailed information and special quotation for your group: info@cervantes.to
Practical Information
Lessons per week: By agreement
Minimun duration: 1 week
Levels: All levels, from A1 (Beginner) to C2 (Superior)
Number of Participants: minimum 8
Composition of the Course: The hours, composition of the course, activities, excursions and type of accommodation will be organized according to the needs of the group
Start of the Course: every monday of the year
Comments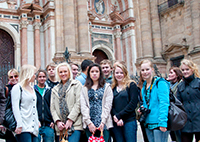 Vestby vgs Group, Norway
"Fuimos a Málaga y a Cervantes Escuela Internacional para aprender y estudiar español; 15 alumnos y 2 profesoras. A los alumnos les ha gustado mucho. Aprendieron muchísimo en sus clases con profesores muy profesionales. También hicimos excursiones a Granada y La Alhambra, y luego al Museo Picasso, experiencias inolvidables.
Estuvimos una semana en Málaga. Los jóvenes vivieron con familias españolas y así pudieron practicar el idioma todo el tiempo.
Nos sentimos muy bienvenidos, todo fue muy bien organizado pero el único problema es que una semana pasa demasiado rápido..
Lo puedo recomendar a todos ir a Málaga y a Cervantes Escuela Internacional. Buen viaje :-)".
Arnhild, Vestby vgs, Noruega